YOLO is proud to have offered parasail trips to Anna Maria Island for over 20 years.
Experience a thrill of a lifetime with YOLO Parasail as you SOAR above Anna Maria Island and the Gulf Coast. Parasail with us for breathtaking views and an unforgettable trip, watch below for dolphins, stingrays, and other ocean life through crystal clear water. Gentle take-off and smooth landings are always provided by our experienced USGC-licensed crew! It can be a completely dry landing, or for a bit of refreshment, a quick dip of the toes in the water.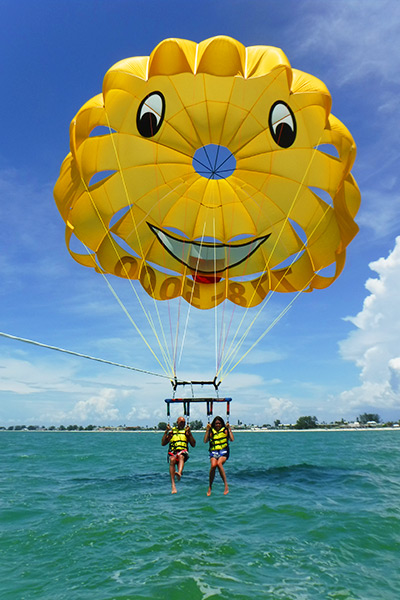 FAQ

How long is the entire experience?
A: The entire trip is approximately an hour. Please incorporate flexibility in your schedule for traffic, parking, check-in, etc. Each flight is up in the air for 8 -10 minutes.

What happens if the weather prevents us from parasailing?
A: If the weather prevents us from parasailing, we will gladly refund or reschedule your reservation. Please keep in mind that this is a weather-sensitive activity and we are in no control of the weather.

Is parasailing safe?
A: Yes, extremely safe. Parasailing is an extreme sport and it does carry risks. However, our captains and crews are specially trained to minimize or avoid such risks. We have flown 1000's of participants, your safety is our number one priority.

Are reservations recommended?
A: Yes, due to the popularity of parasailing, and limited space available, we suggest making your reservations 1-3 days in advance. In the summer we are often booked up two days in advance. 

How high do we go?
We use 800 ft of line and you will be at a vertical height of no more than 400 ft above the water (If any parasailing company tries to sell you on something else, they are just trying to nickel and dime you. FAA regulations do not let us fly any higher than 400 ft).